Restorative Dentistry: Rebuilding Damaged Smiles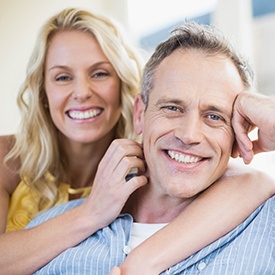 If your teeth need a little help, then you can always trust Knutzen Family Dentistry to provide it. Dr. Ben, Dr. Stacey, and our team have a wide array of services that can repair teeth whether they are chipped, cracked, broken, decayed, or even missing. Basically, no matter what condition your teeth may be in now, we'll be able to help you. Plus, we'll always go a step beyond and make sure that your new teeth look just as beautiful and natural as your other ones. We'll make it look like nothing ever happened to your smile.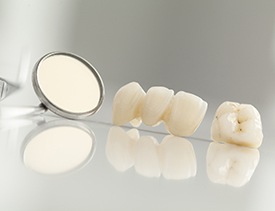 Traditional Crown & Bridge
To repair a broken or severely decayed tooth, one of the best treatments we have involves using a dental crown. It is a tooth-shaped restoration that simply fits over the top of a damaged tooth, and it is able to bring back a tooth's appearance, strength, and function all at the same time.
If you have a missing tooth or a few in a row, we can also use crowns to build something called a dental bridge. For this, we'll apply crowns to the teeth on either side of the gap in your smile, and these will be attached to prosthetic teeth that literally "bridge" the gap between them.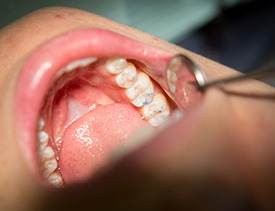 Tooth-Colored Fillings
Fillings are a great way to fix small cavities and slightly damaged teeth, but in the past, they always left a large gray mark on the tooth they repaired. This is why our practice only uses tooth-colored fillings. With this treatment, you'll never have to sacrifice your smile's appearance to get the dental care that you need.
Tooth-colored fillings are made of a composite resin material, and as the name suggests, they can be specially shaded to perfectly match the color of your teeth, making them practically invisible. Plus, they even bond more securely to the enamel than traditional fillings, meaning your new tooth won't just look great, but it will last as well.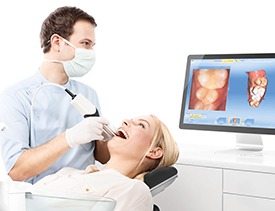 CEREC One-Visit Restorations
In the past, getting a tooth repaired with a dental crown would usually take at least 2 visits to the dentist's office spaced about a week apart. When dealing with a damaged tooth, you just want to get it fixed as quickly as possible, and in a world where everything is getting faster and easier, this process just takes too much time.
This is why our practice offers CEREC One-Visit Restorations. With the use of a high-resolution scanner and sophisticated in-house software, we can design, mill, and place a customized all-porcelain crown in as little as an hour. With this system, you won't have to wait, and we can even save you from having to get a messy dental impression.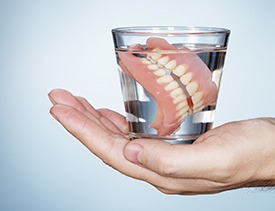 Dentures & Partial Dentures
If you are missing multiple teeth or even an entire row, dentures are an excellent and cost-effective way to replace them. Modern day dentures are now smaller, sleeker, and more natural-looking than ever, making them very different from anything your grandparents might have had.
Partial dentures can be used to replace teeth that are missing throughout the mouth, while full dentures can easily replace an entire arch. Either way, our team will take all the time we need to make sure your dentures have the perfect fit and look.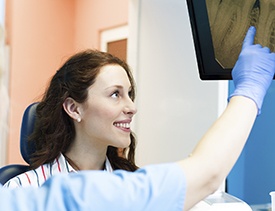 Root Canals
Thanks to modern dental techniques, getting a root canal is now no more painful than getting a simple filling. Surprised? Don't worry, most people are! We typically use root canals to treat teeth that have damage or an infection deep inside them where the sensitive nerve resides. Despite their dubious reputation, root canals are actually one of the best tools we have to RELIEVE severe dental pain and save teeth that would otherwise need to be removed.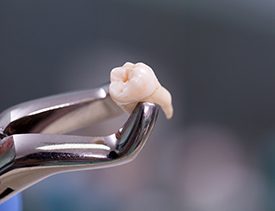 Extractions
While everything we do at Knutzen Family Dentistry is aimed at preserving your smile, sometimes the best course of treatment may involve removing a tooth. This may be the case if:
A tooth is too damaged to be repaired
Severe gum disease has damaged the bone surrounding a tooth
To make room for a set of dentures
To replace a weakened tooth with a dental implant
To remove an impacted (stuck) or infected wisdom tooth
Whatever your situation may be, we'll make sure you're completely numb before beginning your extraction. In fact, Dr. Ben and Dr. Stacey are so gentle that many patients don't even feel it when they've actually removed the tooth!
If you're currently walking around with a compromised smile, you don't have to anymore. Dr. Ben, Dr. Stacey, and our team have literally rebuilt thousands of smiles using these treatments, and we can do the exact same for you. Before you know it, your damaged teeth will be just a distant memory, and you'll be so glad you came to see us.
To start getting your complete smile back, simply contact our office today for an appointment.