Cosmetic Dentistry: Get a Star-Studded Smile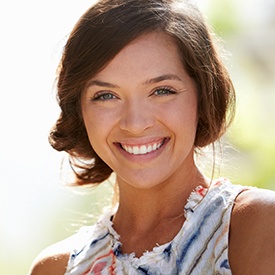 When you see your smile, what's the first thing that pops into your head? Are you perfectly happy with everything you see, or do little flaws instantly jump out at you? If you're like most people, there's bound to be something that you don't like. Perhaps the color isn't quite right, or you hate the chips or large gaps that always draw attention to themselves.
Whatever your situation may be, Dr. Ben, Dr. Stacey, and our team can help with our cosmetic services. With just one or two easy treatments, we can take away any flaw and give you the kind of smile that always fills you with confidence. You'll be amazed at the difference a new smile can make for not just how you look on the outside, but how you feel on the inside as well.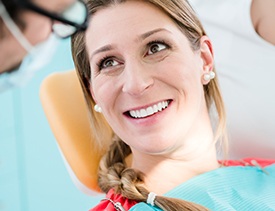 Porcelain Veneers
With this one treatment, we can:
Instantly whiten your teeth
Repair small chips and cracks
Close large, obvious gaps
Straighten slightly crooked teeth
Porcelain veneers are one of the most comprehensive cosmetic treatments available today, and they can give you everything from a small touch-up to a complete smile makeover. They are small, thin shells that are fitted to the front of the teeth, and each set is completely custom-made. With just two appointments, we can completely transform your smile into whatever you want it to be.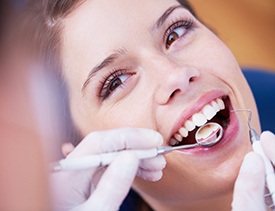 Metal-Free Restorations
If you've damaged one of your front teeth, then we know that we can't just slap on a metal crown and call it a day. You need a more elegant solution, one that combines the best aspects of both restorative and cosmetic dentistry. For this kind of delicate situation, we will only use metal-free restorations.
These all-porcelain crowns, inlays, and onlays will resemble your natural teeth in every way, and not only will they look great, but they will also provide the strength you need to rely on your teeth every day.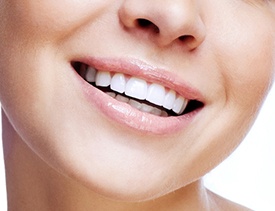 Direct Bonding
For minor chips and cracks, we have a quick and easy treatment that can fix them in just about an hour. It's called direct bonding, and to get it, Dr. Ben or Dr. Stacey will first apply a putty-like composite resin to your damaged tooth. They'll use it to simply sculpt away any imperfections, and after your approval, they'll harden it with a special curing light. It's just that simple, and afterward, it'll look like nothing ever happened to your tooth!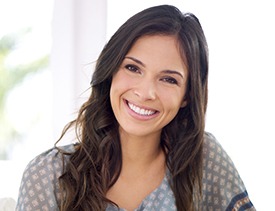 At-Home Whitening Kits
If you've used take-home teeth whitening products before, then you know that they can be long on promises and short on results. To truly get a whiter smile in the comfort of your own home, we can provide you with one of our custom-made kits.
With just one quick appointment, we'll make you a set of mouth trays designed only to fit you, and we'll give you a potent whitening gel that is much stronger than anything you can get at the store. After 2 weeks of daily use, your smile will look up to 8 shades whiter, and with consistent oral hygiene, the results can easily last for several months.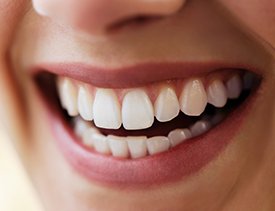 Gum Recontouring
Would you say that you have a "gummy" smile? Do your teeth appear to be short and stubby? If so, it could be because of excess gum tissue. The perfect smile has just the right balance of teeth, lips, and gums, and too much of any element can completely throw off its appearance.
For this particular issue, Dr. Ben and Dr. Stacey can use a soft tissue laser to quickly and painlessly remove excess gum tissue to expose more of your natural teeth. With just one appointment, they can give you an impeccably proportioned smile that you'll love to show off.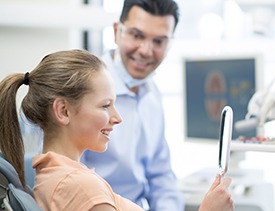 Virtual Smile Design
Before you undergo a cosmetic treatment, we can use our virtual smile design system to create your own "before and after" photos. That way, you can see what your final result will look like before we begin treatment. With this, you can make sure that you're getting exactly what you want, and you'll have a chance to ask for any adjustments. We'll simply use digital photos of you and modify them using our special software. With this, you can make sure that you're getting the exact smile you want.
You probably see the results of cosmetic dentistry every day. As many as 3 million people chose to have a cosmetic treatment last year, and that number is always growing. That's because a beautiful smile can do so much more for a person than simply improve their appearance, and thanks to the latest techniques, treatments are now faster, easier, and more natural-looking than ever.
If you're ready to start getting the smile you've always wanted, don't wait-- contact our office today for a consultation.