Emergency Dentistry: Call Us First for Urgent Dental Care!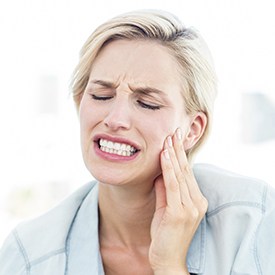 "Life just happens," is a phrase people use all the time when things don't quite go as planned. Unfortunately, it can often "just happen" to your teeth, leaving you with a knocked out tooth or broken dental work. These kinds of situations are called "dental emergencies", and they happen all the time. In those initial moments after one has occurred, you might be tempted to call 911, but don't! Most emergency rooms/clinics simply don't have the personnel or equipment to handle emergency dental care. Often, they'll just make you wait for hours and eventually send you to a local dental practice.
When you really need dental care FAST, you only need to do one thing: call Knutzen Family Dentistry.
How We Handle Your Emergency
When you call us with an emergency, our team will immediately spring into action. We'll do everything we can to see you as soon as possible (including making same-day appointments), and our team will walk you through basic first-aid over the phone so that we can help you even before you come see us. When you make it to our office, you won't wait—we'll bring you straight back to a treatment room and get to work saving your smile.
Most of the time, we can complete an emergency treatment in just one visit, but if we can't, we'll be sure to relieve your pain and schedule a quick follow-up. All in all, when you truly need us, you can trust Dr. Ben, Dr. Stacey, and our team to always be there.
When Should I Call My Emergency Dentist?
If you or a loved one find themselves in any of the following situations, make sure to stop whatever you are doing and call Knutzen Family Dentistry immediately:
Knocked out tooth
Partially dislodged tooth
Severe toothache
Broken or lost dental work (fillings, crowns, bridges, dentures)
Object stuck between the teeth
Injury to the gums
Injury to the jaw
Pain or swelling in the face
We'll Be There!
No matter what your dental emergency might be, we'll always be able to help you, and we'll always do it FAST! If you'd like to learn more about what to do in a dental emergency or how to avoid one altogether, please call our office today.