Dental Implants: Permanent and Natural-Looking Teeth Replacement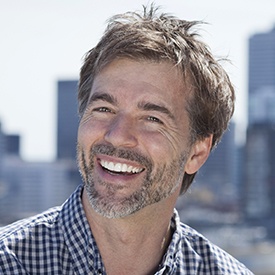 To put it bluntly, missing teeth are a real pain. They can make it difficult to do simple things like speak, eat, and smile comfortably, and they can even be a constant drain on your self-confidence. Even worse, they actually make you much more likely to develop gum disease, which in itself is the leading cause of tooth-loss!
To help you finally say goodbye to the gaps in your smile forever, Dr. Ben, Dr. Stacey, and our team can provide the latest, state-of-the-art tooth replacement solution available today: dental implants. With this one treatment, we can rebuild your smile in a way that looks completely natural and will last a lifetime. To learn about how they work, simply read on below.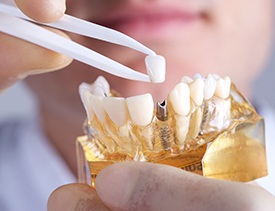 Implant Placement
The reason dental implants are so special is that they actually replace the entire tooth from root to crown. Most other treatments only restore a tooth above the gum line, and while they may look great, they leave out something very important. You see, your jaw relies on the support of your teeth roots in order to stay full and strong. Without them, the bone can start to deteriorate and become brittle, bringing on that sunken, sallow appearance we're all familiar with. Dental implants restore this support, so that not only will your smile be complete, but your entire facial shape will also be preserved for years to come.
A dental implant is actually a small titanium post that is placed directly into the jaw. This involves a minor surgical procedure, and fortunately, Dr. Ben can handle this himself, saving you from having to find a specialist. It typically only requires a small incision in the gums, and most of the time, local anesthesia is all a patient needs for it to be completely painless.
Once your procedure is over, you'll be given 4-6 months to heal, during which time the posts will actually meld with the surrounding bone (just like your natural teeth). This will help create an even stronger hold for your new teeth. After you are completely healed, you'll return to our office to receive your replacement teeth.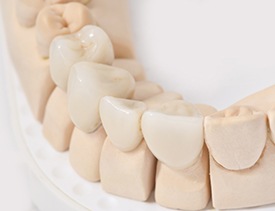 Implant-Retained Crowns & Bridges
For a single missing tooth, we will attach something called an implant-retained crown to a single implant post. This will involve attaching a metal, tooth-shaped support called an abutment and then fitting an all-porcelain crown over it. Dental porcelain is one of the most advanced materials we use in all of dentistry, and it is able to mimic a natural tooth in every way imaginable: shape, size, color, strength, and even feel.
If you have multiple missing teeth in a row, these implant-retained crowns can be used to support a bridge. Two crowns will be placed on either side of the gap in your smile, and these will be bonded to prosthetic teeth that fill the space between them.
In either case, both of these restorations will blend in seamlessly with the rest of your teeth, and with the proper oral hygiene (such as brushing, flossing, and regular checkups), the implants can easily last for 30 years or more.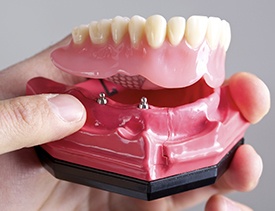 Implant-Retained Prosthetics
Dental implants are extremely versatile, and they can even be used to support a set of dentures. Implant-retained dentures look just as realistic as traditional ones, but they provide a number of additional benefits as well:
Because the dentures will be anchored to your jawbone, they will never slip, slide, pop, or click unexpectedly.
Thanks to the jaw support provided by the implants, your dentures will maintain their fit for much longer.
Implant-retained dentures allow a patient to have a bite force much more similar to their natural teeth. This will enable them to eat a wider variety of healthy foods with ease.
Traditional denture wearers typically are very limited in the foods they can eat, and this often leads to malnutrition, poor health, and even premature death. With implant-retained dentures, a patient will be able to easily chew the fibrous vegetables and cooked meats needed to live a long and vigorous life.
With dental implants, missing teeth don't have to be a constant in your life anymore. You no longer have to hide your smile or limit your food choices. Thanks to dental implants, you can get your smile back, and it will look great and stand the test of time.
If you think dental implants could be exactly what your smile needs, please contact our office today for a consultation.